Description
Contempo 3 group coffee machine automatic dual fuel package. Make up to 600 cups per hour.
Start a mobile coffee business with the most powerful gas machine in the world.
Everything you need to start a high powered mobile coffee business. Get started with a commercial-grade coffee maker, pro blender, barista kit, water treatment kit, luxury knock out draw, accessories and more. The most complete all in one coffee machine startup package for the mobile caterer. Starting a coffee business has never been easier. If you desire to start a professional coffee business, this package is created to help achieve this goal.  It contains all the equipment needed to launch and run an effective coffee business.
What you get with the package.
Contempo 3 Group Coffee Machine Automatic Dual Fuel
The heart of this package is a Group 3 fully automatic dual-fuel coffee machine. Ideal for making up to 600 cups per hour. Specifically designed for mobile catering units, the UK-made Fracino CON3E dual fuel coffee machine offers impressive performance and great front-of-house looks. With separate water and steam pressure controls alongside the powerful dual steam wands, you can make a superb quality latte, cappuccino, espresso and more. Automatic group cleaning also makes the Fracino simple to use, clean and maintain. Able to produce up to 600 espresso per hour.
Fracino 3 group Contempo coffee machines use LPG, Butane or electric they provide unrivalled flexibility and mobility whilst still retaining high volume output. This machine is the ideal choice for mobile catering units, cafes and 'espresso on the go'. The high powered gas burners for these machines provide the equivalent power of their electric counterparts, ensuring that there will be no loss of steam pressure during busy serving periods. Fracino is proud to claim that their gas machines are the most powerful in the world.  This electronically controlled model has unique touchpads which accurately pre-programmed coffee measures, meaning your customers will experience the same consistency and texture over and over again. Fully electronic machines offer speed and convenience during busy trading times, helping the business maximise profits, reduce waste and offer the same coffee experience to customers each and every time. Please view the Coffee Machine Spec tab for more details.
Another vital key feature of the Fracino range which is often overlooked is the easy to access internal areas which allow for reduced maintenance times and servicing. This is a great advantage and means the machine during service or repairs will have the lowest downtime. Allowing the business to continue to serve your customers with a minimum of disruption.  All parts and accessories are readily available from the UK factory.
Coffee Grinder F6 Auto
The extensive F6 series automatic grinders are manufactured from die-cast polished and painted aluminium and are a stylish complement to the Fracino range. The F6 model is available as a single shot or automatic grinder encompassing a reservoir for ground coffee. The coffee is dispensed using a stylish aluminium slick lever mechanism set to the dose required by the customer. The F6 come with an adjustable grinding blade. With a large 1.7-kilo coffee bean hopper and adjustable grinding blades, large quantities of coffee can be ground to perfection, consistently and reliably.
The package also comes with the following items
Knock out drawer. Luxury under counter grinder knock out drawer
Pro barista kit – Fracino Tamper, Shower plate brush, Small Thermostat, 0.6 Milk Jug, 0.8 Belly Jug, 2x Shot Glasses, Rubber Tamping Mat
Battery – Gel deep cycle battery is designed to provide a steady amount of current over a long period of time. Ideal for mobile catering.
Inverter– (12v to 240v) 1kw – This unit works with the battery to power the electric pump.
Water treatment unit  – Vital for eliminating bacteria, organic solids, minerals etc needed to compliment a good cup of coffee and ensure your equipment lasts a long time.
Flo jet pump – Provides the right water pressure for coffee machine.
Fresh Water container 25L– Coffee machine water source.
Waste Water container – Wastewater for coffee machine.
Why Use Fracino Coffee Machines
All coffee machines are manufactured in the UK and built to last.
When it comes to service, repairs, parts or advice, you are only 1 phone call away from a high level of technical aftercare support.
The only manufacturers of expresso and coffee machines in the UK. Good quality product at the highest value possible.
Each machine is hand-built by engineers for quality and endurance.
Easy access to internal areas allows for reduced maintenance times and servicing
Each piece of equipment has been carefully selected to work seamlessly together in a commercial environment. The idea package for any beginner. Fracino also provides training and set up on how to use the machine meaning a personal walkthrough with an expert. Fracino, the UK's award-winning manufacturer of cappuccino and espresso coffee machines.
Still Not Sure. 100% Confidence
We are 100% confident that if you are serious about starting a coffee business or would like to purchase any of the Fracino range, you will not be disappointed. MobCater has visited the factory and showroom and has seen firsthand the manufacturing process. You are not just buying a coffee machine but a rich heritage, a support network of engineers and parts that will give your business the 100% confidence it needs long after the purchase. We can also arrange a visit to the showroom if needed before your purchase.
Who's This Dual Fuel Package Perfect For?
This package is a perfect fit for any catering vehicle, trailer, van, cart or a location with a permeant hard surface (fitting purposes). Don't waste time searching for cheaper alternatives, or trying to put an equipment package together that has not been tested. The last thing needed during busy trading periods is to face an equipment breakdown. Fracino coffee machines are tried and tested to work at maximum capacity under pressure producing consistent, excellent tasting coffee every time. Build your business on great-tasting coffee, with this all-inclusive dual fuel coffee machine package today. From installation to training, everything you need to get started successfully, minus the hassle.
Warranty Protection
All machines that are installed by Fracino engineers come with both parts and labour warranties. Professional, technical backup from our experienced engineers and friendly support team if install is done on site.
Lease Finance – The Price of 4-5 Coffee's Per Day.
Lease based on 2yrs from £68.54 per week. The price of 4-5 coffee's per day. Lease finance agreements have long been considered a smarter way to invest in assets. One of the main reasons for doing so is the tax relief that can be received. The below figures demonstrates a potential repayment plans from 2 to 5 years. Find out more about  Lease Finance here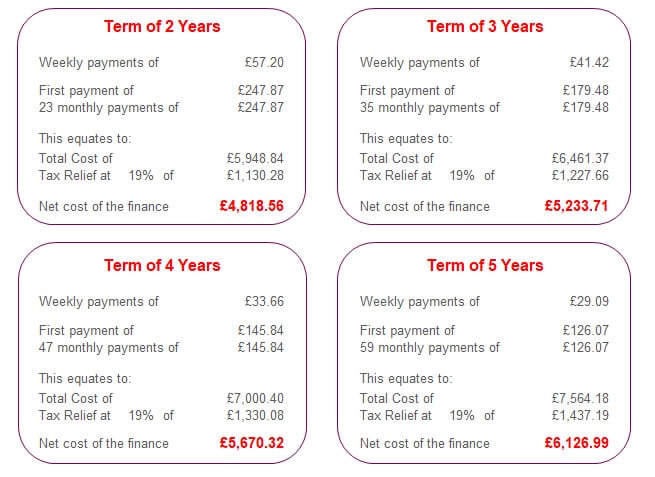 Installation and training.
Please note: If selected, installation and training will be at Fracino, B7 7DB only.  Vehicle must comply with gas safety regulations and Fracino installation specifications before arrival into the workshop (details provided by Fracino when order confirmed). Installation is available at other locations around the UK for an additional charge – price on request. A gas safety test must be conducted by COMCAT 2 engineer before equipment is used. MobCater can also supply a COMCAT 2 engineer to provide Gas safety test at an additional charge it's not included as part of the package. The following items also need to purchased locally: High-Pressure Hose attached after 1/4″ Fulham nozzle, Pressure Regulator and Gas LPG/Propane Bottle.
Ask a question
Call us with your questions on 01923 559 077 or Text Us with your question on – 07422 128 528 or use the Ask a Question tab above.