Description
Group 2 VC2 Hybrid Espresso Coffee Machine & Milk Fridge(Optional) –  Built to last a lifetime.
The Fracino Velocino VC2 is a state of the art hybrid espresso machine pairs the convenience of a bean to cup machine, with the simplicity of a traditional espresso machine. Manufactured from the highest quality stainless steel, brass and copper components, it is a reliable and simple to maintain espresso machine, built to last a lifetime. This no-nonsense innovation has been specifically designed for sites with high staff turnover, ensuring consistent, premium quality drinks each time, no matter how inexperienced the operator is. With two independent groups, it's great for busy sites, as two different drinks can be made simultaneously. Its large 10 litre boiler, combined with the powerful 4kW element. This group 2 VC2 model allows the user to prepare up to 120 x 12oz per hour.
Combining the traditional E61 style chrome-plated brass group with an automatic milk frother, advanced programming and an easy to understand control panel, the Velocino allows you to dispense all espresso-based drinks straight into the cup at the press of a button. Making it easy to use. The control panel features simple one-touch operation and a multi-language LCD status display, ensuring instant feedback and minimal downtime.
Water, coffee and milk volumes as well as timings can all be programmed, meaning a consistent, perfect coffee every time. The Velocino also features an automatic cleaning cycle to maximise hygiene and coffee quality. For added flexibility, the 'go large' button allows the user to easily offer regular or large drinks easily.

Control Pad
The control panel has been designed to be as simple as possible to use, with a colour coded system, basic instructions incorporated on the front panel, tactile switches and high intensity LED indicator lights. The clear and easy to read LCD display allows for instant feedback on the status of the machine, minimal operator error and quick and effective staff training.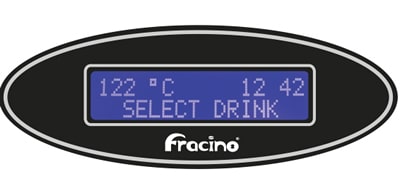 Control Features
Automatically dispenses Espresso, Cappuccino, Latte and Americano with the press of a single button – minimal staff training required.
Water, coffee, milk volumes and timings can be programmed with optional delays to give the perfect consistency and appearance of drinks, with large and small options.
Automatic heating cycle guarantees that the machine is only used when at the correct temperature and pressure – ensuring drinks are of the highest quality.
Automatic cleaning cycles for group and milk frother.
Automatic on/off feature to ensure the machine is only on during business hours to save energy.
Non splash hot water for Americano and tea, with large and small options available.
LCD display to show status of machine.
All drink and technical programmes require a security key to prevent unauthorised persons adjusting the settings.
Service cycle counter, with an indicator to show when a service is due.
Water filter counter to ensure that the water filter is replaced regularly.
The drinks counter, which gives quantities on each individual drink and water usage.
4 different languages available – English, German, French and Italian.
Milk frother cleaning instructions and an indicator warning light show when the milk frother requires cleaning. This helps to maintain good hygiene and best milk quality.
Key Features
Top-quality copper boiler heated by multiple looped elements.
Pressure controlled by a triple contact pressure switch.
Automatic water level system with a probe, electronic control unit and solenoid valve.
The pressure of water and steam is separately controlled by brass safety valves.
Case, waste and cup tray are all made from stainless steel 304.
Brass bodied group with stainless shower plate, solenoid valve and high-pressure pump.
Automatic on/off timer means that the machine can be set to turn on and off at set times.
Manual steam valve (on left) which can be used at the same time as the group.
Dual pressure gauge showing water and steam pressure.
Group clearance 120mm.
Milk Fridge (optional)
The milk fridge is compressor operated and keeps your milk at a constant temperature. This fridge will hold 4.4 litres of milk.
Fridge spec: H 340 W 225 D 480.  Weight 12 KG.  Element rating: 0.08kw/240v (optional) Select as option if required.
Why Use Fracino Coffee Machines
All coffee machines are manufactured in the UK and built to last.
When it comes to service, repairs, parts or advice you are only 1 phone call away from a high level of technical aftercare support.
The only manufacturers of expresso and coffee machines in the UK. Good quality product at the highest value possible.
Each machine is hand-built by engineers for quality and endurance.
Easy access to internal areas allows for reduced maintenance times and servicing
Still Not Sure. 100% Confidence
We are 100% confident that if you are serious about starting a coffee business or would like to purchase any of the Fracino range, you will not be disappointed. MobCater has visited the factory and showroom and has seen firsthand the manufacturing process. You are not just buying a coffee machine but a rich heritage, a support network of engineers and parts that will give your business the 100% confidence it needs long after the purchase. We can also arrange a visit to the showroom if needed before your purchase.
Why Choose The Machine Installation Package.
Take the hassle out of the installation process. Get up and running much quicker with an installation package. The machines are delivered and installed by Fracino's finest Technical Engineers giving your Fracino Espresso machine the very best start in life. Experienced engineers will attend the location and will professionally install and set up the machine and any Fracino coffee grinders. They will provide 1-1 training and show you how to use and maintain the machine to its optimal level. Ask questions and support and real help from the professionals on the day. All machine will be set up according to manufactures instructions. To take advantage of this simply select the "include installation" option below the cart button.
Recommended. Water Treatment Unit 1, 2, 3 & 4 Group
Water quality is vital for great tasting coffee and its imperative that you invest in a water filter. The water treatment unit not only filters the water but protects elements in the coffee machines. As part of the warranty on the machine a water treatment unit is required. Please choose a filter type to match the coffee machine either 1, 2, 3 4 group. (damaged caused to machine elements due to a non-filter may invalidate the warranty). Choose a water treatment filter and check the map here for hard water areas.
Extra Info
Material Stainless Steel & Zintec
Voltage 240V
Weight 55kg
Parts waranty 1 Year
Colour Stainless Black
Traditional espresso machine type group & automatic milk system, dispenses espresso, cappuccino, latte, Americano and hot water with the press of a single button
Easy to operate pre-programmed menu – minimal staff training required
2 group model is able to produce two different varieties of drink as well as two different sizes at the same time
Simple intuitive design, meaning consistently high quality coffee and fresh milk-based drinks
Easy to clean with minimal wastage
High level of reliability and low maintenance requirements
Compressor type fridge holds 4.4Ltr of fresh milk (optional)
Designed and manufactured in the UK
Automatic cleaning indicator ensures optimal milk system clean cycles to maintain maximum hygiene and quality
Adjustable integrated needle valve allows the user to easily adjust the air induction to control and manage the consistency of the milk foam texture to compensate for the natural variations in milk quality Cutting edge milk foamer system.
Ask a question
Call us with your questions on 01923 559 077  or  Text Us with your question on – 07422 128 528 or use the Ask a Question tab above.
If selected, installation and training included with purchase to UK Mainland only, excluding Offshore & Remote locations (you will be contacted to complete a pre-installation checklist before installation date is booked and machine arranged for delivery, terms apply).
IMPORTANT: orders for Offshore and Remote locations (Ireland, Highlands, Islands etc) will incur additional charges with added delivery lead times – phone order only, please call us for more details.